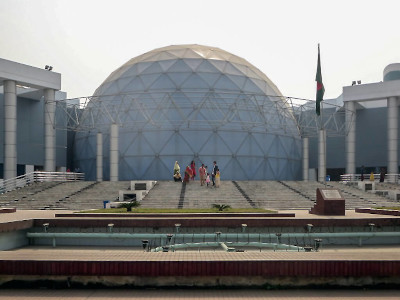 Bangabandhu Sheikh Mujibur Rahman Novo Theatre is located at Bijoy Sharani Avenue of the Tejgaon area in Dhaka, Bangladesh. Previously it was known as the 'Bhashani Novo Theatre'. Now it is known as 'Bangabandhu Novo Theatre'.

Architect Ali Imam designed it. The ministry of science and information and communication technology of Bangladesh Government exposed this planetarium to Bhashani Novo Theatre.

Bangabandhu Sheikh Mujibur Rahman Novo Theatre has been established as a non-formal science educational institute to eradicate superstitions and blind faith from the society and to inculcate positive scientific temper in the mind of people especially among the students. This theatre has been established by the Ministry of science and technology.
History of Bangabandhu Sheikh Mujibur Rahman Novo Theatre:
The Bangabandhu Sheikh Mujibur Novo Theatre opened to the public on 25 September 2004. It was previously named Bhashani Novo Theatre. It was made by Bangabandhu Sheikh Mujibur Rahman Novo Theatre bill 2010. The space center was commissioned by the ministry of science and communication technology of the government of Bangladesh. Build on 5.46 acres of land. Its spaces range in size from its 21-meter dome seating 275 people to three-meter inflatable and portable domes where people sit on the floor.

A large number of advanced technological instruments have been procured from Japan, America Korea, France, Italy, and India for the planetarium not only the planetarium show a very exciting ride simulator, 5D movie theatre, 5D interactive edutainment simulator model of planets of the solar system. Scientific and digital exhibits and some portrait of world-renowned scientists and solars are also available at the site of Novo theatre.

Novo Theatre Opening Hour:
The Bangabandhu Novo Theatre is open to visitors from Saturday, Sunday, Monday, Tuesday, and Thursday to 11:00 AM to 7:00 PM but Friday it starts from 10:00 AM to 7:00 PM. Apart from Wednesday. Usually, the tickets are sold before two hours of each show every day.
Novo Theater Close Day:
Wednesday is the weekly holiday.
Novo Theatre Show Details:
Thu. 10:00 AM – 6:30 PM.
Fri. 9:30 AM – 6:30 PM.
Sat – Tue. 10:00 AM – 6:30 PM.
Contact Number:
Bangabandhu Sheikh Mujibur Rahman Novo Theatre Address:
Bangabandhu Sheikh Mujibur Rahman Novo Theatre
Bijoy Shoroni, Tejgaon
Dhaka-1215, Bangladesh

Location or How to Visit:
There are many local and direct buses from various places inside and outside Dhaka. You can visit Bangabandhu Sheikh Mujibur Rahman Novo Theatre very easily through rickshaw and public transport with a minimum cost of 30 BDT from Motijheel in Dhaka.

Most Attractive Things:
It would be an absolutely thrilling experience no doubt, the development of modern science and technology has finally enabled us to experience just that in our own country. Recently the 'Space Theatre' at the turning point of Bijoy Shorani, Dhaka has undergone its completion.

The Dhaka Bhashani Novo Theatre has aroused a great deal of curiosity amongst the general public. Some have imagined it to be a theatre promoting the cultural arts while it is, in fact, a theatre building in order to promote astronomy. The planetarium displays the solar systems through a special projector and enables us to gain a wider knowledge of outer space and our galactic well as learn more about stars, their names, movements, etc. with the help of scientifically powerful projector inside the planetarium, the astronomical shows are displayed on a large curved domed screen on the ceiling. These curved ceiling represents the sky and shows moving images of plants and stars through a projection on to a large screen dome at an angle of 120 degrees. At the time of projection, the planetary system is also for a better understanding of the spectators interpreted in both Bengali and English.
Official Facebook Page or Website: