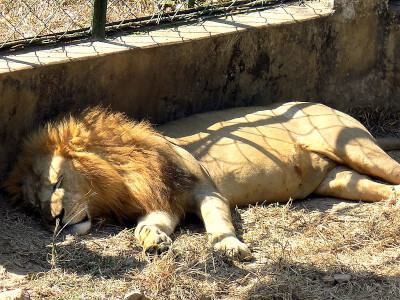 Bangladesh is a various nation that draws in a large number of guests every year. Vacationers rush to the nation to encounter its one of a kind culture, meet its neighborly local people and appreciate the gloriousness of the nation's natural life.

Numerous stores and preservation tasks have been built up in Bangladesh to secure its uncommon untamed life and flying creature populaces, and one such amazing eco-the travel industry activity is the Dulahazra Safari Park. Found around a hundred kilometers outside of the vacationer hotspot of Cox's Bazaar, the Dulahazra Safari Park is splendidly situated for guests to appreciate day outings out to this brilliant protection region.

History of Dulahazra Safari Park:

Dulahazara Safari Park was created on an undulating scene of around 2,224 sections of land (9.00 km2) of zone at Chakaria Upazila in Cox's Bazar District, Bangladesh, approximately 107 km away from the port city, Chittagong, with a target to make offices for eco-the travel industry, inquire about work and excitement beside preserving wild creatures in an indigenous habitat.

Dulahazara Safari Park is home to at any rate 4,000 creatures of 165 species. After the new government took over in January 2007, joint powers safeguarded a significant number of these new inhabitants of the recreation center during their drives at houses and foundations claimed by unite suspects. Numerous people additionally gave a portion of the creatures to the recreation center during this period. The seized and gave creatures as of late sent to the recreation center incorporate 90 spotted deer, 42 yelping deer, three sambar deer, one freshwater crocodile, one saltwater crocodile, nine wild bears, four pythons, 17 peacocks, 19 Turkish fowls, and two emus.

Another wellspring of creatures is the Dhaka Zoo. While the creature populace in Dhaka zoo has expanded throughout the years because of their rearing, the Dhaka zoo gives various lions and tigers to the Dulahazara Safari Park.

Dulahazra Safari Park Ticket Price:
Adults: 50 TK.
Students (below 15 years): 20 TK.
Below 5 years: Free entry.
Student group (1 to 100 people): 500 TK.
Student group (more than 101 to 250 people): 800 TK.
Study tour: (30 to 100 students): 200 TK.
Study Tour: (Above 100): 400 TK.
Foreigner: 350 TK, USD 5.
Visit b safari bus: 20 TK.
Dulahazra Safari Park Parking fee:
Bus: 100 TK
Car/ Microbus: 50 Tk.
Dulahazra Safari Park Opening Hour:
Opening hour: 09.00 Am, Closing hour: 05.00 Pm.
Contact Number: +88-031-684420, +88 017111 30512S, +88 01834 001009.
How to visit Dulahazra Safari Park:
Chakaria, Dulahazra Union, Cox's Bazar.
It takes 2.5 hours from Chittagong. From Cox's Bazar you can reach Chakaria by Bus/Microbus or Chander Gari (One sort of Jeep).
Where to stay:
After visiting this park you have to come back to Cox's Bazaar. There are many hotels/motels and restaurants you can find in Cox's Bazaar to stay and flooding.
The accommodations facilities are cox's Bazar is remarkable. There are several great hotels in the region some of the hotels in rangamati are listed below for your assistance.
Hotel seagull
Hotel motel zone
Cox's bazaar sea beach, cox's Bazar
Phone: +88-0341-62480-90.
Cell: =88 01766666530
Kalatoli road, cox's Bazar
Phone: 880-341-63692, 63792.
Mobile: 01714652227-8, 01979405051-2.
Plot#10, Block-A, kalatoli road, cox's Bazar
Phone: +88-0341-62862, 64275.
Hotel sayeman road, cox's Bazar
Cell: +88-01711-022088
Phone: +88-0341-63900-4, 63703-7.
Atmosphere:
The atmosphere is subtropical in nature. The normal yearly precipitation is 3599 mm, most sultry month is October, coldest month is January, driest month is December, the wettest month is July, the normal greatest temperature is 34.20C and normal least temperature is 15.60C.

Most attractive Things:
The recreation center itself ensures countless wild elephants that are local to the region. In the safari park, there are trained elephants that are accessible for a ride. Other creature attractions incorporate lions, Bengal tigers, Crocodiles, Bears, Chital and heaps of various kinds of feathered creatures and monkeys. Since the recreation center was made open to people in general, it has been drawing a tremendous group throughout the entire year — 6,000 guests day by day during the pinnacle season.

Dulahazra Safari Park is completely situated for guests to enjoy day outings out to this stunning preservation zone. The recreation center has got focus as a diversion spot for the general mass of the individuals and for the researcher. It is one of the learning spots too. The spot has now turned into a Safari Park and a Zoo. These days, if any wild creature is unlawfully or unexpectedly gotten any place in the nation, it is being shipped and set here.

An enormous number of individuals visit Safari Park as a result of its heavenly normal picturesque excellence and appealing undulated scene with green inclusion. Slopes and water bodies are entwined with one another. It is additionally perceived for its environmental significance, and logical, tasteful and recreational qualities. The woods of the Dulahazara range continue subtropical evergreen and semi-evergreen trees and natural life. This zone is the significant sustaining ground of wild elephants in light of the fact that the crowd of wild elephants frequently visits this territory and harms open property.
Dulahazra Safari Park undertaking got in progress Between the years 1998 and 1999, possessing just a little real estate parcel, which has now developed to more than 2,000 sections of land of protected land. The administration started to assume a unique job in the improvement of the recreation center in 2007, guaranteeing that unlawfully claimed creatures were held and taken to the recreation center, with a large number of the creatures likewise being given by their proprietors. This has enabled the recreation center's populace to develop to almost 4,000 creatures, furnishing guests with 165 species to wonder about.

The assortment of creatures that have been seized and given is surprising, with the recreation center taking in saltwater crocodiles, mountain bears, yapping deer, spotted deer, pythons, emus, freshwater crocodiles, peacocks, and birds. Every one of the creatures has been given colossal regions to meander uninhibitedly, with rich timberlands and brush for their natural surroundings. A few creatures are avoided as much as possible from guests for wellbeing reasons. The Dhaka Zoo has additionally helped with developing the number of creatures in Dulahazra Safari Park through their proliferation program, empowering guests to see other natural life, for example, monkeys, lions, parrots, steeds, giraffes, tigers, elephants, reptiles, zebras, and frogs. A portion of the elephants at the recreation center are tamed, and guests can interface with them.
Guests can be passed through the Dulahazra Safari Park by jeep to investigate the unprecedented untamed life, and there is an exceptionally built pinnacle for travelers where they can watch out over the recreation center and view various creatures. It is extremely the perfect fascination for a family trip, as it is additionally an examination focus that spotlights on moderating the earth just as instructing people in general.
Official Face book Page or Website:
https://www.facebook.com/pages/Dulahazra-Safari-Park/275897189089675