The Dream Holiday Park is situated near the bus Sylhet highway in Sadar Upazila of Panchdola Chaitab. The park was officially launched in late 2011. There are different rides for children and adults in this park.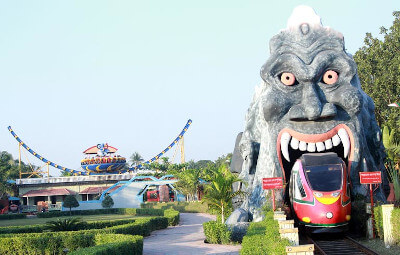 The park is surrounded by Dream Holiday Park, a world-class theme park that has been set up in the Narsingdi district near the capital Dhaka. Natural beauty is made with the combination of nature and official mechanism. Himalaya mountain resemblance has been created here. There is 20 live ghost moving across the park who give fun and excitement to both children and adults. If you listen carefully, you may hear the roar of the ocean. You can be lost in the amazing fountains of the mountain in the sprawling hills of nature here.
History of Dream Holiday Park:
There are many amusement parks in Bangladesh. Some are old and historical and some are recently launched and developed. Dream Holiday Park was opened for trippers on August 31, 2011. It is located at Chaitaba, Narsingdi. It is ideally elaborately made and developed to allure day-trippers from near and far. It has elaborate arrangements and facilities for a comfortable and secure stay and it offers excellent facilities to indulge in park activities.
There is spacious car parking space, bungalow, and cottage for accommodation, international standard restaurant for Indian and Chinese food, coffee house, ice cream parlor, delicious fast food, government security (Ansar), instant power supply and prayer room, etc.
There are two picnic spots, rent for picnic spots are BDT 80000 for up to 300 people and BDT 110000 for up to 500 people on holidays. The rates are reduced to BDT 75000 and BDT 90000 respectively on working days. For 300 picnickers for 500 picnickers, there is one Bungalow with two-conditioned rooms and for 500 picnickers there is one-storied Bungalow.
Dream Holiday Park Ticket Price:

Entry Fee:
• Adult entry ticket 300 takas with vat (per person)
• Children Entry ticket 200 takas with vat (per person)
200 tickets per person. The Water world entrance ticket is taka 350. Different rides cost 50/100 taka.
Dream Holiday Park Opening Hour:

The Dream Holiday Park is open 10 am to 8 pm, but you have to collect a ticket from 6:00 pm to 6:30 pm within the evening. After that, the sale of the ticket was stopped.
Dream Holiday Park Off Day:
The Dream Holiday Park is opened for seven days. There's no off-day
Contact Number:
Phone: 9564046, 9570140-41, 7630225
Mobile: 01712-145849, 01721490420
Address, Location (How to go):
Dream Holiday Park Location:
Choitabo Pachdola Dhaka-Sylhet Highway, Narsingdi.
Head Office:
City Bhaban, (7th floor), 20-21, B Avenue. Dhaka
For the capital city of Dhaka, you can go there by bus from Komlapur, Mohakhali and Saidabad bus station. After 30 minutes, a bus leaves for there. You can go there by Intercity Agaro sindoor and Mahanagar Ghudoli train. You can go by any local train of Dhaka to Chittagong road. If you go by intercity train you have to land on Narsindi station and take CNG or auto-rickshaw to reach there. If you ride on Local train you can land on Ghurashal also then you have to go to by bus. You can go by any bus there any bus of Dhaka or Sylhet division.
Most Attractive Things :
You are most welcome to visit a dreamland like a dream holiday park. It will be a great pleasure for us while you and your family spend your valuable time in this park for a study tour, picnic, and family gets together or memorable event.
Due to a small country in the sense of the area, the facilities of recreation is very limited among the city dwellers. To relieve the monotonous city life we would like to offer them a natural environment with adventurous amusement.
Hoping to fulfill the aim we have established a special Dream Park near the capital city Dhaka. The total park area about 30 acres is arranged with numerous attractive items. Out of this maximum area is decorated with water-related items and beautiful greeneries.
A tremendous excitement of water umbrella, rainbow water or coastal wave can be enjoyed in the largest wave water park of the country. Guests can feel the excitement of sea life and enjoy every moment with exclusive DJ music. Children may also enjoy rocking jumping horses, swing chairs, toy trains, etc. Everybody can enjoy a memorable time on Swan Boat, Bumper Boat, and Speed Boat. A bullet train runs beside the lake and crosses a horrible exiting tunnel for those guest who is very adventurous, the horror world will cover the adventurous moment that one can recollect for a long time.
Official Facebook Page or Website: