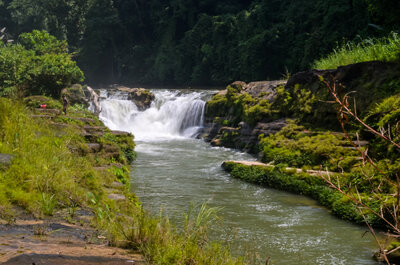 Ngafakhong (Native Marma Term) or Nafa-Khum to non-nasal soundpeople is a waterfall in Bangladesh on the Remaikree River, a tributary of regrekhyong / Sangu river. It is among the biggest waterfalls in the nation by volume of water falling. The wild uneven Remaikree River all of a sudden tumbles down here around 25-30 feet.
The word Ngafa in native Marma language means Baghair fish/ Dwarfgoonch and "Khong" means "Ground". A special type of flying fish, whose local name is nating, is found at the bottom in a small cave as they swim against the stream but cannot jump over the height of the fall.
Bandarban is the heaven for nature and adventure lovers in Bangladesh. So it has no reason to enjoy the tour. Significantly, we will see Chimbuk, Nilgiri, Thanchi, Sangu River, padmamukh, dandu, rajapathar. Remake falls and Remakri Para when visiting Nafakhum from Bandarban. Likewise, we will also find some amazing places on the way to Nafakhum including Amakhyum, Egg Hill, Alikadam, Bagalak, Kekkadong, Nilachal, Golden temple etc.
Nafa-khum Waterfalls History:
The delightful Sylvan and hilly waterway Sangu abruptly tumble down here around 25-30 feet. That's why; this amazing waterfall was created here for beauty lover and adventurers from all over the world. The name of this wonderful waterfall is nafakhum which is also known as Bangladeshi Niagara but the local people also called it Remakri waterfall. The beautiful Nafakhum is among the largest waterfall in the country by volume of water falling. The name Nafakhum comes from Mama (one of the tribal nations of Bangladesh) language. The word "Khum" means waterfall. All will be see here a special type of flying fish, the local name of the fish is Nating.
Chasing for a waterfall is certainly one of the most energizing undertakings out there. There is an overwhelming pleasure in getting lost completely amidst the serenity of nature, traversing through some of the captivating landscapes across hills, rivers, and streams and finally rewarding oneself with the euphoria of discovering a heavenly waterfall. Already quite familiar with the adventure lovers of the country, these two waterfalls located in the southeastern extremes of the hill tracts district of Bandarban are sure to delight a young soul seeking nirvana. Nafakhum located in Thanchi Upazila of Bandarban is affectionately called the "Niagara of Bangladesh".
Nafa-khum Waterfalls Address Location (How to Go):
Thanchi, Bandarban, Bangladesh.
This perfect waterfall is situated in a remote hilly territory of Bangladesh which is three hours strolling good ways from Remakri, Thanchi Upazila of Bandarban region.
Travel from Thanchi to Bandarban:
In the wake of coming to Bandarban you need to go to Thanchi Upazila by transport from Bandarban. To reach Amaikum waterfall you have to make a trip from Bandarban to Thanchi by Chander Gari (Public Jeep) or a private vehicle. The separation between Bandarban to Thanchi is around 79 km.
Travel from Thanchi to Remake:
You need to hire a tour guide. You must enter your full name address and contact number at the army camp of Remake. Bandarban before hiring a tour guide. There is a tour guide committee and that tour guide committee will select an experienced tour guide for you. This tour guide will stay for 2 days with you during the journey to reach the particular tour spot until you come back to Remake. For the first day, the tour guide will charge 600 takas and for the second day onwards the tour guide will charge 500 takas for each day (excluding his food and accommodation).
Where to Stay:
Some of the hotels/motels in Bandarban are listed below for your assistance.
1. Hillside Resort
Address: Chimbuk Road, Bandarban
Contact Number: +880 1730-045083, 02-988 6983
2. Hotel Greenhill
Address: Main Raod, Bandarban-4600
Contact Number: +880 18566-99910, +880 1856-699911
Nafakhum is one of the most excellent waterfalls in Bangladesh. Nafakhum is situated on the wild hilly Sangu River in a remote area called Remakri of Thanchi Upazila under the Bandarban Hill district in Bangladesh. Nafakhum is also known as the Remakri waterfall.

The most attractive thing is that I realized the magnificence of nature while traveling to Nafakhum. In a foggy morning, we reached Thanchi. It was around 11 am but the fig still covered nature all along. After moving a little further we found the Thanchi Bazar, a well-organized small market. Lots of things will seize your attention there and you would definitely like to have a glance around the market. In the meantime, we found our guide was waiting for us at that place. Then our guide completed all the formalities and took permission from BGB. The Border Guard Bangladesh (BGB) was very much concerned about ensuring security. Especially for the tourists that they inquire about all necessary information and check even the photographs.

The road above rain clouds, mountain gorges with rapids and step-ups do not conjure up in the mind when you think about the landscape of Bangladesh, but this is exactly what you will pass through if you venture into Bnadarban towards Nafakhum. But then Nafakhum itself does not command a grand view, the journey towards it, however, gives you a revelation of jungle beauty and an experience of a lifetime.
Nafakhum is very popular as a tourist destination. But due to the increasing number of mass touring the surrounding ecology has been deteriorated these days. Every traveler should have a tour plan to visit this beautiful tourism spot of Bandarban at least once and then they will feel to visit that travel spot again and again.