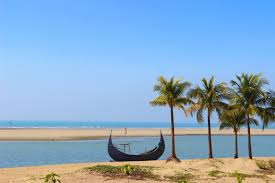 Inani Beach is a sea beach in Ukhia Upazila of Cox's Bazaar District, about 18 kilometers long. It has a nice view and has lots of coral stones. These coral stones take on a green shade during the summer and in the rainy season.

It is a very beautiful beach known for its rock and coral boulders. The hills can be seen from one side and sea on the other which makes it really impressive. The view and sunrise and the sunset of this beach are very memorable. The blue water and the lines of stones is the main source of attraction for the tourists. The clean blue and shark free water is ideal for bathing and swimming without any fear.

The water stone is between stones contains small sea-fish, crabs, snail, and many more. These will keep you busy for all day long. Most tourists choose this place for its silent nature and eccentric environment. Inani beach is famous for its crystal clear water at the beach. Finally don't forget to enjoy the sunset at the beach. Try to stay until the sun goes down.

Tourism:
Numerous travelers come to visit this beach each year to unwind and make the most of its tendency. The best spot to remain is in the close by town of Cox's Bazar. Since there are no stores or eateries in the region, guests ought to bring nourishment and whatever other comforts that they will require with them. Vacationers can even get a voyage through the beach in a jeep because of its long length. The town of Cox's Bazar is 94 miles south of Chittagong, which explorers can reach effectively through plane or transport.

Unique Site Of Inani Beach:
Inani beach is unique because it has not yet been turned into a tourist trap with hotels and chain restaurants surrounding it. Indeed, as international tourism to Bangladesh has not yet been popularized, visitors traveling to Inani beach are more likely to be surrounded by nature and can use this beach as a relaxing escape from their busy lives.


The beach is famous for its rock and coral boulders as well as the lush, green hills behind it. Since there are many boulders, however, the beach is not suitable for surfing. Most visitors recommended watching the sunrise and sunset at the beach to see the sky and sea meet, which proves to be an unforgettable sight.

Inani beach Address, Location (How to go Inani Beach ):
From Cox's Bazar you can reach Inani beach by rickshaw or CNG auto rickshaw.
To arrive, take transport to Teknaf and get off at Court Bazar (30 km), a modest town 2 km before Ukhia. From that point, you can rickshaw or rhythm west to the beach, 10 km away. In case you're set out toward the guesthouse, request that the rickshaw driver let you off at the minor town of Sonarpara. From that point, walk south until you arrive at the guesthouse. On the other hand, procure a CNG bike/jeep from Cox's Bazar to take you straightforwardly to Inani utilizing the picturesque beach course.

One can employ a CNG bike for 5–6 hours at an expense of 500 tk. A CNG bike offers you a bundle comprehensive of Inani beach. You can go there easily. In the wake of completing the process of visiting one will be returned so.

Inani Beach Most attractive Things :

Situated around 32 kilometers toward the south of the mainstream traveler goal of Cox's Bazar in Bangladesh, the lovely Inani Beach draws in guests who welcome the marvels of nature. With a background of rich green slopes ascending on the east, and the ocean loosening up interminably toward the west, Inani Beach is renowned for its strangely formed shake and coral rocks dissipated amply over the beach and into the ocean.

Inani Beach, broadly viewed as the world's longest beach, is bordered with tall palm trees influencing delicately in the breeze and has a quiet tidal pond which is ideal for the little ones to paddle in. Sitting on the stone and coral rocks with the warm waves appearing on the shore around you, as they have accomplished for many years, can be a restorative encounter. Seashells everything being equal, hues and sizes are found along Inani Beach, making beachcombing a prevalent movement. Anglers make their job in the waters off Inani Beach, unhindered by the groups that run to the more open and traveler arranged seashores.

While Inani Beach is similarly as wonderful as the beach at Cox's Bazar, it does not have a portion of the luxuries that voyagers may expect, and it is fitting to take a stuffed lunch with you when you visit there. In any case, the individuals who have set aside the effort to investigate Inani Beach will affirm that its excellence far exceeds anything it might need comforts. Truth be told, many are of the assessment that the absence of lodgings and cheap food sellers add to the intrigue of Inani Beach.

Numerous guests to Cox's Bazar set aside the effort to go along the coastline by jeep, getting a charge out of a break from the city and taking in the sights, for example, Inani Beach and Himchori with its shocking cascade, just as Sonadia and Moheshkhali Island. When visiting Inani Beach, make certain to take your camera along to catch the marvelous sight of the sun setting over the sea, transforming it into a mixture of shades of gold and copper – a sight which is essentially life-changing.

Inani beach Hotel & Resort:

The settlement offices in Cox's Bazar are striking. There are a few extraordinary hotels in the district. A portion of the hotels/motels in Rangamati are recorded below for your assistance.

Hotel Seagull
Hotel Motel Zone
Cox's Bazar Sea Beach, Cox's Bazar
Tel: +88 0341 62480 – 90
Cell: +88 01766666530, +88 0176666653
Hotel Sea Palace
Kalatoli Road, Cox's Bazar
Telephone: 880-341-63692, 63792, 63794, 63826, and 63853
Portable: 01714652227-8, 01979405051-2
Saint Martin Resort
Plot # ten, Block-a, Kalatoli Road, Cox's Bazar
Telephone: +88-0341-62862, 64275
Hotel Sayeman
Hotel Sayeman Road, Cox's Bazar
Cell: +88-01711-022088
Telephone: +88-0341-63900 – 4, 63703 – 7
Hotel Sea Crown
Marin Drive, Kola Toil New Beach
Phone: 0341-64795, 0341-64474
Portable: 01817 089420
Inani Beach Traveling Tips:
The water is much clearer, cleaner and blue-er. You can have your photos taken by the photographers hanging around who will give you the soft-copy instantly at tk. 5 per selected photo. Be sure to choose and select the photos before taking them as they take about 200 pictures in 10 minutes. This is the rocky beach full of coral.