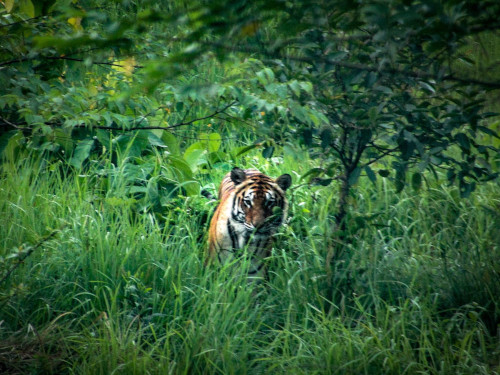 Bangabandhu Sheikh Mujib safari park is a safari park in Gazipur, Bangladesh. It was inaugurated in 2013. The park is divided into 5 major sections. They are:
Core Safari
Safari Kingdom
Biodiversity Park
Extensive Asian Safari Park
Bangabandhu Square

One of the biggest safari park in South Asia, Bangabandhu Sheikh Mujib safari park is an outstanding tourist spot in Gazipur District. It also an attractive visiting place in Bangladesh everyone has been 100% satisfied making a tour at Bangabandhu Sheikh Mujib Safari park.

After visiting this place anybody can find a little African forest here. Conservator of forest wildlife and nature conservation unit of Department of Forest. Department of Forest is implementing the project at Sreepur of Gazipur on 3690 acres of area. The project work lunched in June 2010.

Visitors can opt for a core safari in the jungle; it starts at 11 in the morning and takes the tourists for a ride inside the core area of the forests. Gazipur safari park you can see several animals and birds like zebras, deer, bison, Macaws, hornbills, peacocks in addition to the carnivores like royal Bengal Tigers, white lions, elephant, sambars, Maya deer, Chitra deer, monkeys, Hanuman, Bear, gazelles, crocodiles during this ride. The Bangabandhu Safari Park also has a national history museum, an aquarium, a duck pond and a small butterfly enclosure that is open to the visitors.

History of Gazipur Safari Park :
Amlaki, Bahira, Haritki, Karai, Shimul, Haklu, Palash, Chapallish, Kusum, Patraj, Udal, and mavalati Swarambaram were seen in small tilas (boats) and low land (baid) salmon of bharal average. In this forest, many species of Maya deer, leopard, forest cat, gandhakkul, Fox, Szuru, Monkey, hanuman and other birds were seen. About 63 species of plants and 220 species of wild animals were found in Salbon.

The existence of Shaw forests is rapidly losing due to population growth, urbanization, industrialization, the expansion of agricultural land by the destruction of forests, housing, forced and land disputes. Wildlife is an integral part of the natural environment food cycle and biodiversity. Wildlife's role in the existence of humans is immense.

In order to create biodiversity conservation, development of tourism, development of tourism industry, education, research, and entertainment opportunities, initiatives have been taken to establish "Safari Park" in the Bhawalgarh area with the memory of the father of the nation Bangabandhu.

4909.0 acres of forest land of Pirujali Mousas of Pirujali union of Pirujali union of Sadar Upazila under Sreepur Upazila of Gazipur district. Known as a safe habitat for small species of different species. Of this, 3810.0 acres of area has been included in the safari park master plan. The project title 'Bangabandhu Sheikh Mujib Safari Park' was approved by ECNEC at an estimated cost of Tk 63.99 crore in 2010 and the establishment of the park started and the construction work of Bangabandhu Sheikh Mujib Safari Park. Gazipur officially started on 2 February 2011. No master plan could be formulated at the beginning of the project later with the help of native and foreign experts, a master plan was developed to upgrade to the safari park of international standards. On 4th October 2011. This project was approved by ECNEC at an estimated cost of 219.89 crores, on October 4, 2011 for the implementation of the program described in the master plan.

Gazipur Safari Park Ticket Price:
Visitors can visit safari park by paying a fixed fee. Fees levied by the government are as follows:
Adults per adult-50 Tk
Unemployed elderly-20 Tk
School student (under 15 years)- 10 Tk
Students going to the education tour from educational institute (40-100) -400 Tk
Students coming from the establishment of education (group 100)-800 Tk
Foreign tourist- 5 us dollars or equal amount of Bangladeshi money.

Bangabandhu Sheikh Mujib safari park Opening Hour :
Bangabandhu Sheukh Mujib safari park is open from 9 AM to 5 PM.
Bangabandhu Sheikh Mujib safari park Off Day:
Tuesday is the closing day of the park.
Contact Number:
Indropur, Bagher Bazar, Sreepur,
Gazipur-1742.
Bangladesh
Phone: +880 1842-434401

Address, Location (How to go):
Bagherbazar, Sreepur, Gazipur. The safari park is situated 40 kilometers North of Dhaka city, besides of Dhaka-Mymensingh highway, just 3 kilometers west of Bagherbazar. Get on a Mymensingh or Sreepur bound bus and get down at Bagherbazar. Now you need to use a vehicle such as a rickshaw to go to Bangabandhu Safari Park which is three kilometers away from Bagherbazar. You also go on foot from this place.

Most Attractive Things (What You Can See There):
Bangabandhu Safari park is an amazing tourist place nearby Dhaka that gives you a real touch of nature amid city life. Near the Dhaka city, you will find the genuine causeway environment to refresh your mind. I have a personal tour in the safari park.
The main attraction of the park is to see open lion & tiger with parks operated bulletproof car by 100 taka ticket. That is most adventurous feelings in the park, likely afraid you during the tour. You may face a long line to collect the ticket, so it will be wise to stand at first when you enter the park otherwise you may not able to see the most attractive spot. With the protection car, you can see deer, monkey, ladybug & crocodiles. Don't disturb them & take some snaps.

Official Facebook Page or Website: