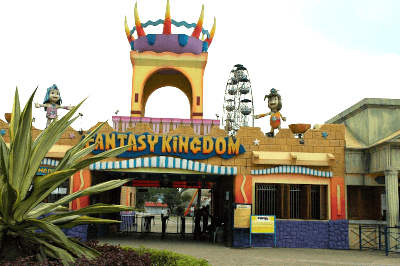 The Fantasy Kingdom theme park commonly known as the Fantasy Kingdom is an entertainment complex in Ashulia, Savar, Bangladesh. It was opened on19 February 2002, the theme park is owned and operated by Concord Entertainment Co. Ltd, a sister concern of Concord Group. The property covers nearly 80 acres, featuring one theme park, one water park, Dry Park and Heritage Corner. This is the first-ever theme park of Bangladesh that started in the year 2002occupying 20 acres of land at Ashulia near Dhaka. Concord group is the builder and supervising authority of this project. It needs 45 minutes to reach the fantasy kingdom at Ashulia from Dhaka.

The Water Kingdom is beside the Fantasy Kingdom in Ashulia that was completed in July 2006. The Water Kingdom is a world-class water theme park with a number of water slides, a wave pool, a lazy river and facilities for smaller children. Water kingdom is also provided entertainment in the form of concerts, fashion shows and DJ shows.

History of Fantasy Kingdom:
Fantasy Kingdom is a project of concern Group a well-established business company of Bangladesh. This group is pursuing new business opportunities because the world is not static. There have been many developments in the recent past that will affect us all both in Bangladesh and globally. But they had retained their strengths in the business sectors that laid the foundation of the group. Engineering & Construction, construction materials and their qualified and professional people
They have grown with time and with Bangladesh since Concord was established in 1972. Concords' contribution to the infrastructural development of Bangladesh began with constructing war-damaged bridges in 1973. They have also diversified into various other fields which includes readymade garments, real estate development, manufacture of construction materials, amusement park.
As their commitment is to improve the quality of life of the people in Bangladesh they tried to make a project where they can give the people entertainment. They actually want to make the life of Bangladeshi people more enjoyable. They felt that they need to develop new types of business sectors in Bangladesh. According to this thought, they create a new type of business sector in Bangladesh and that is the fantasy Kingdom.
Fantasy Kingdom Ticket Price:

Adult: Entry + All Rides = Tk.850,
Kids: Entry + All Rides once = Tk.500.
Opening Hour:

The Fantasy Kingdom remains open from 10:00 am to 10:00 pm. On special days, Government holidays and Fridays.
Fantasy Kingdom Off Day:

The Fantasy Kingdom is opened for seven days. There's no off day.
Contact Number:
Phone: 01913-531387
Address:
Fantasy Kingdom, Dhaka. Ashulia Highway, Jamgora, Savar Union 1345.
How to Visit Fantasy Kingdom:
There are currently many bus routes available to help you reach the place. You can take the bus from different points of Dhaka namely Motijheel, Press club, Shahbagh, Banglamotor, Farmgate, Shukrabad, Asadgate, Shyamoli, Kalyanpur, Technical or Kakrail, Maghbazar, Nabisco, Mohakhali, etc.
Most Attractive Things:
The Fantasy Kingdom brings a little bit of Disneyland to Bangladesh. It is one of the most spectacular amusement parks in the country and has become a great tourist attraction in Dhaka. South Asia had never before experienced an amusement park such a grand scale and it took the creativity, dedication, and commitment from hundreds of workers artists and sculptors to bring this world of entertainment and thrills to life.
This Park is not only used as a tourist attraction and for fun but also host events such as the Banglalink Desh Music Festival 2007 that was held here on 17 and 18 August. During the festival, the park opened its doors to musicians such as The Trap, Warfare, and James, scarecrow Tahsan and Nemesis. The event was in aid of relief for flood victims.
Visitors to the Fantasy kingdom amusement park will also find a four-star luxury hotel at the park that has two hundred rooms, condominiums, and its very own resort city.
Official Website: